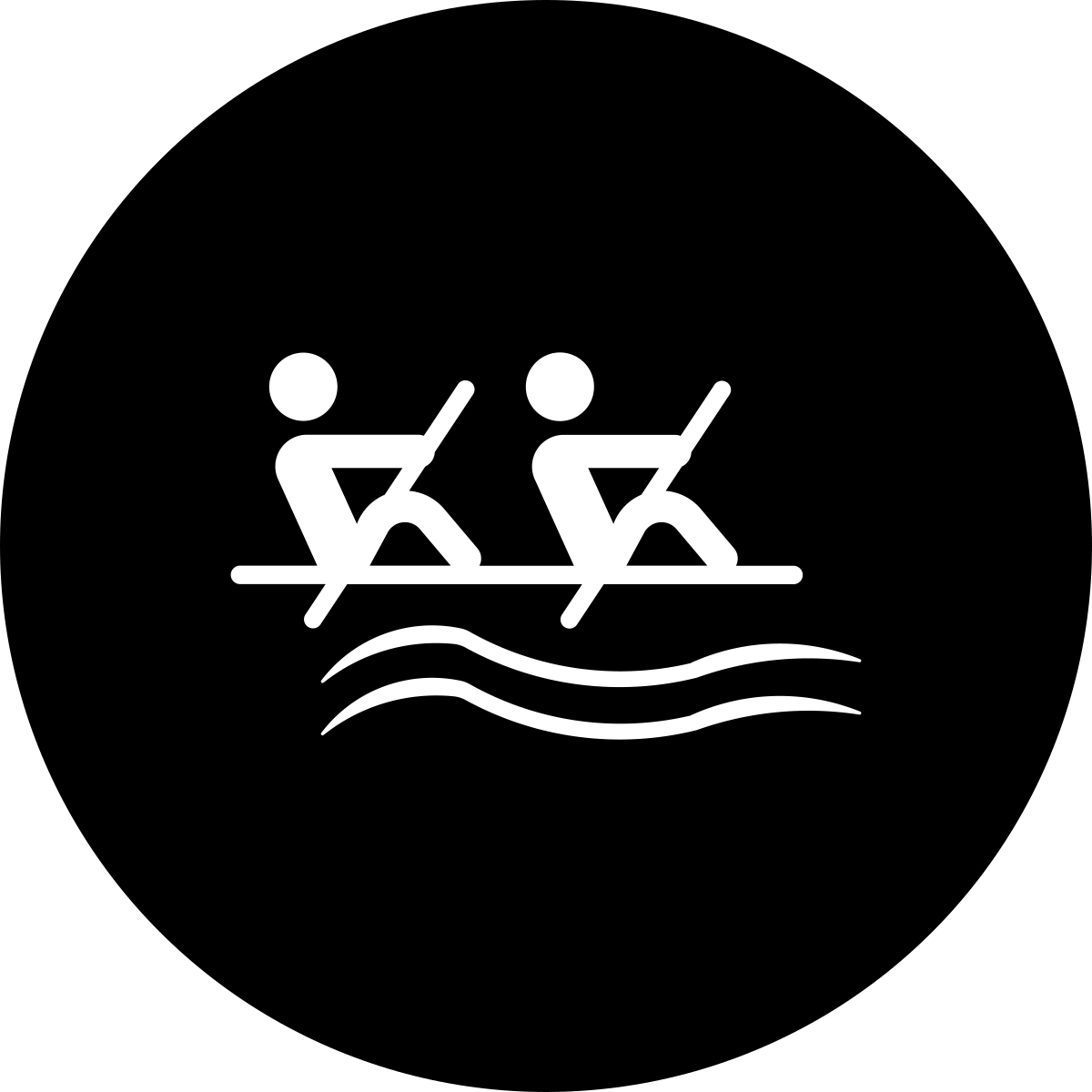 ROWING
The Rowing Championships have been an important feature of the GPS sporting calendar for almost as long as the Association has been in existence, and includes the celebrated annual "Head of the River" race for 1st VIII crews.
Lake Wyaralong, near Beaudesert provides a spectacular backdrop for the full GPS regatta season. We are pleased to partner with Rowing Queensland in the conduct of regattas and the use of Rowing Manager for entries, scheduling of races, draws and results.
GPS RULES AND FORMS
SEASON DRAW
CHAMPIONSHIPS
PROGRAM OF EVENTS
2023 GPS Rowing Championships Program
FULL RESULTS
2023 GPS Rowing Championships Full Results
THE O'CONNOR CUP, 101ST ANNUAL HEAD OF THE RIVER | OPEN 1ST VIII 2,000M
1. BBC (5:53.71)
2. TSS
3. NC
4. ACGS
5. GT
6. BGS
7. BSHS
OLD BOYS' CUP
Championship points are awarded to crews in the Year 10 1st to 6th Quad, Year 11, 1st VIII to 3rd VIII and Open 1st VIII to 3rd VIII.
1. TSS (112 pts)
2. BBC (105)
3. GT (84)
4. ACGS (68)
5. BGS (65)
6. NC (39)
7. BSHS (7)
OFFICIAL PROGRAM
RESULTS ARCHIVE
HISTORY
TIMELINE
KEY EVENTS
| | | |
| --- | --- | --- |
| 1918 | | |
| | | The Southport School wins, Brisbane Grammar School second, Brisbane Boys' College takes third place. |
| 1922 | | O'Connor Cup first presented (back-dated to 1918) |
| 1928 | | St Joseph's Gregory Terrace compete for the first time |
| 1942-45 | | No races due to World War II |
| 1954 | | Final year of fours racing for Head of the River competition |
| 1954 | | St Joseph's Gregory Terrace returns to Head of the River competition |
| 1955 | | First year of eights racing for Head of the River |
| 1975-76 | | GPS Head of the River held at Lake Kurwongbah |
| 1977 | | GPS Head of the River moves to Hinze Dam |
| 1983 | | 'No race' was declared by the GPS Headmasters, following the race which resulted in multiple protests |
| 1987 | | GPS Head of the River moves to Wivenhoe Dam |
| 1988 | | Old Boys' Cup introduced to overall point score |
| 1990 | | New point score system introduced for Old Boys' Cup; |
| | | Aggregate scoring for 12 championship events (Open 1st-3rd VIII, Yr11 1st-3rd VIII, Yr10 1st-6th Quads) |
| 2003 | | St Joseph's Nudgee College wins their first Head of the River |
| 2006 | | GPS Head of the River held at Hinze Dam |
| 2007 | | GPS Head of the River moves to Kawana |
| 2016 | | St Joseph's Nudgee College hosts the inaugural GPS regatta at Wyaralong Dam |
| 2017 | | The first full GPS regatta season is held at Wyaralong Dam, including the GPS Head of the River |
| 2018 | | The GPS Centenary Regatta is held at Lake Wyaralong |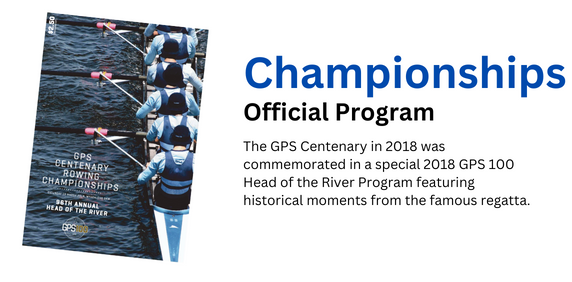 YEAR
2023
2022
2021
2020
2019
2018
2017
2016
2015
2014
2013
2012
2011
2010
2009
2008
2007
2006
2005
2004
2003
2002
2001
2000
1999
1998
1997
1996
1995
1994
1993
1992
1991
1990
1989
1988
CHAMPIONS
The Southport School
The Southport School
Anglican Church Grammar School
Anglican Church Grammar School
Anglican Church Grammar School
St Joseph's Nudgee College
St Joseph's Nudgee College
St Joseph's Nudgee College
St Joseph's Nudgee College
St Joseph's Nudgee College
The Southport School
St Joseph's Nudgee College & The Southport School (TIE)
St Joseph's Nudgee College
Not awarded as all races were not conducted due to weather
St Joseph's College, Gregory Terrace
St Joseph's College, Gregory Terrace
St Joseph's College, Gregory Terrace
Anglican Church Grammar School
Anglican Church Grammar School
Anglican Church Grammar School
Brisbane Boys' College
Brisbane Boys' College
Brisbane Boys' College
The Southport School
Anglican Church Grammar School
Brisbane Grammar School
St Joseph's College, Gregory Terrace
Brisbane Grammar School
Brisbane Grammar School
Brisbane Grammar School
Brisbane Boys' College
Brisbane Boys' College
Anglican Church Grammar School
Anglican Church Grammar School
The Southport School
The Southport School
YEAR
2023
2022
2021
2020
2019
2018
2017
2016
2015
2014
2013
2012
2011
2010
2009
2008
2007
2006
2005
2004
2003
2002
2001
2000
1999
1998
1997
1996
1995
1994
1993
1992
1991
1990
1989
1988
1987
1986
1985
1984
1983
1982
1981
1980
1979
1978
1977
1976
1975
1974
1973
1972
1971
1970
1969
1968
1967
1966
1965
1964
1963
1962
1961
1960
1959
1958
1957
1956
1955
1954
1953
1952
1951
1950
1949
1948
1947
1946
1945 to 1942
1941
1940
1939
1938
1937
1936
1935
1934
1933
1932
1931
1930
1929
1928
1927
1926
1925
1924
1923
1922
1921
1920
1919
1918
PREMIERS
Brisbane Boys' College
Brisbane Boys' College
Brisbane Boys' College
Brisbane Grammar School
St Joseph's Nudgee College
The Southport School
St Joseph's Nudgee College
St Joseph's Nudgee College
St Joseph's Nudgee College
St Joseph's Nudgee College
St Joseph's Nudgee College
Anglican Church Grammar School
St Joseph's Nudgee College
Anglican Church Grammar School
St Joseph's Nudgee College
St Joseph's College, Gregory Terrace
Brisbane Grammar School
The Southport School
Anglican Church Grammar School
Anglican Church Grammar School
St Joseph's Nudgee College
Brisbane Boys' College
Brisbane Grammar School
The Southport School
Brisbane Grammar School
Anglican Church Grammar School
Brisbane Grammar School
St Joseph's College, Gregory Terrace
Brisbane Grammar School
St Joseph's College, Gregory Terrace
Brisbane Boys' College
Brisbane Boys' College
The Southport School
Brisbane Boys' College
The Southport School
Brisbane Grammar School
The Southport School
The Southport School
The Southport School
Brisbane Grammar School
No Race
St Joseph's College, Gregory Terrace
Brisbane Grammar School
Brisbane Grammar School
Brisbane Grammar School
The Southport School
Brisbane Grammar School
Brisbane Grammar School
Church of England Grammar School
Brisbane Boys' College
Church of England Grammar School
Brisbane Boys' College
Church of England Grammar School
The Southport School
Church of England Grammar School
Brisbane Boys' College
Brisbane Grammar School
Brisbane Boys' College
Brisbane Boys' College & Brisbane Grammar School (TIE)
Brisbane Grammar School
Church of England Grammar School
Brisbane Boys' College
Brisbane Boys' College
Brisbane Grammar School
The Southport School
The Southport School
Brisbane Boys' College
Brisbane Boys' College
Brisbane Grammar School (First year in eights)
The Southport School
The Southport School
Brisbane Boys' College
Brisbane Boys' College
Brisbane Boys' College
Brisbane Boys' College
Brisbane State High School
Brisbane Boys' College
Brisbane Boys' College
No Competition (World War II)
Church of England Grammar School
Church of England Grammar School
Church of England Grammar School
Brisbane Boys' College
Brisbane Boys' College
Church of England Grammar School
Brisbane Boys' College
Brisbane Grammar School
The Southport School
Brisbane State High School
The Southport School
The Southport School
Brisbane Grammar School
Brisbane Grammar School & Brisbane State High School (TIE)
Brisbane State High School
Church of England Grammar School
Brisbane State High School
Brisbane Boys' College
The Southport School
Church of England Grammar School
The Southport School
The Southport School
Brisbane Boys' College
The Southport School